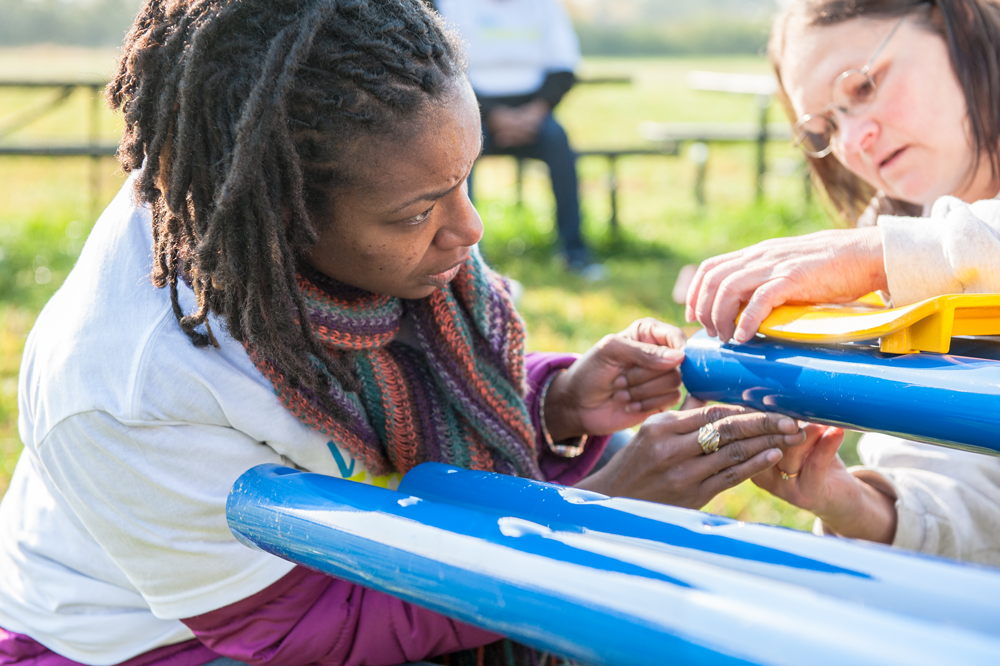 2021 Pulse Check on Shared Stewardship for Thriving Together Across America
Introduction
Who are stewards?
Stewards work together to create the conditions that everyone needs to thrive, beginning with those who are struggling and suffering. Shared stewardship is not a new idea, but it has not yet become a widespread norm. A growing network of people and organizations see themselves—and one another—as stewards in a movement to thrive together by creating a system that is built for well-being, equity, and racial justice.
What is the Pulse Check?
What will it take to live up to our potential to be good stewards of an equitable and thriving future? The 2021 Pulse Check on Shared Stewardship for Thriving Together Across America surveyed more than three hundred leaders who are well-positioned to act as stewards in communities across the U.S. The results track the diffusion of shared stewardship and explore the extent to which the values, priorities, and practices of stewardship are taking hold nationwide.
Fielded from October 2020 to July 2021, during the COVID-19 pandemic, the survey provides rare and timely insights about stewarding well-being in a period of significant threat and opportunity. The 2021 Pulse Check was led by ReThink Health, the flagship initiative of the Rippel Foundation, in partnership with the RAND Corporation and funded by the Robert Wood Johnson Foundation and Rippel. It sought to learn:
To what extent do changemakers across America endorse stewardship values?
What are their priorities for investment and action?
How fully are stewardship practices incorporated as organizational norms?
What kinds of obstacles and momentum builders are shaping the path forward?
Who contributed?
We invited contributors from a nationally representative sample of places across America.
This report summarizes perspectives from 348 individuals across the following organization types, all of which play a role in fostering equitable, thriving communities:
governmental public health departments (city or county)
hospitals
business associations (for example, local chambers of commerce)
community non-profits, including multisector partnerships and organizations focused on food, housing, the environment, and faith and social justice
What did we find?
Our findings indicate a notable, though still incomplete, nationwide commitment to create an equitable system for thriving together. The survey finds strong agreement about what the destination is, less agreement about why it should be the destination, and still more differences about how best to get there. Here are several highlights:
Stewardship values
More than 90% of respondents affirmed core stewardship values, including that purpose in life must be larger than both oneself and one's organization, that every person should feel they have power to help shape the world they live in, and that people and organizations should use their wealth to create conditions in which all people can thrive.
78% recognize that opportunities for people in their communities to live their best possible lives are not equally shared, while one quarter of respondents believe to some degree that all people in their communities currently have equal opportunities.
26% work on system change as their most important goal, along with 60% who say it is at least one of their organization's goals.
Stewardship priorities
43% would invest more among those who have the most to gain, including those who are denied equal opportunities because of color, class, gender, and other sources of unjust discrimination.
44% would prioritize vital conditions, while 32% would prioritize urgent services. Even during a national crisis, many respondents emphasized that investments to expand vital conditions should be the higher priority right now (in terms of everyone's time, money, and effort).
45% favor being creative with existing resources (rather than seeking additional resources first). Even though more resources would undoubtedly help, nearly half (45%) believe most problems can be improved by being more creative with existing resources.
Stewardship practices
94% believe that working together is the best way for their organizations to achieve maximum impact, versus going it alone.
37% view working relationships as highly effective across organizations in their community.
More than 90% rate their own stewardship practices highly, but fewer than 50% say the same about others.
What is our hope for the future?
It is through shared stewardship that communities can transcend legacies of injustice and expand the vital conditions.
It is our hope that the 2021 Pulse Check will create wider awareness about the critical importance of shared stewardship and what we can do to become better stewards of an equitable and thriving future.