ReThink Health's History
ReThink Health is the brainchild of a group of visionary leaders from multiple sectors. It's grounded in the earliest thinking of The Rippel Foundation's first President, Julius A. Rippel, who as far back as 1959 raised concerns about our unsustainable health care system and the need for new ways of thinking and acting to keep people healthy and health care affordable. After decades of grantmaking, it became apparent in 2007 that to achieve Rippel's mission, a tectonic structural shift to the system that produces health and well-being would be necessary.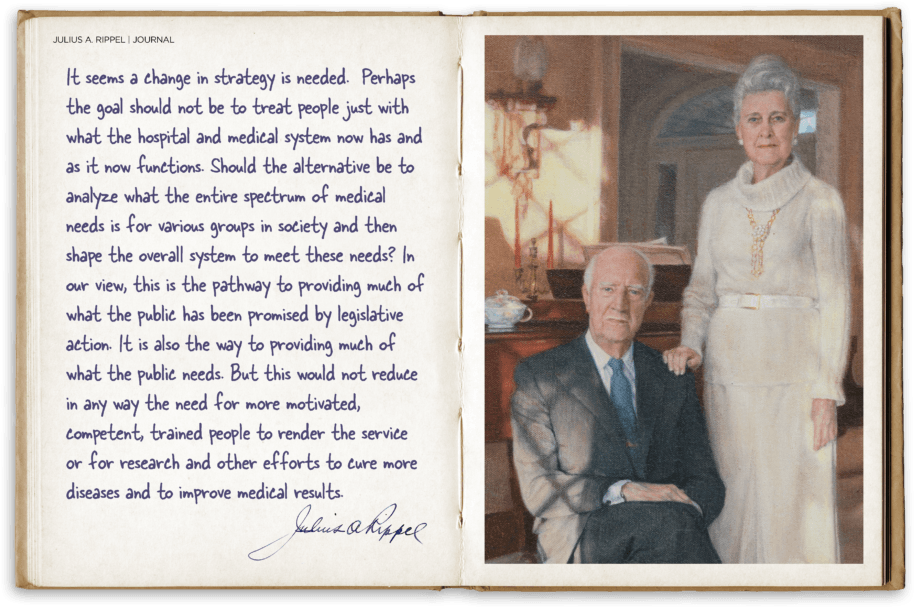 To figure out how to spark that change, Rippel convened a group of extraordinary leaders—those who would become ReThink Health's pioneering founders. The group included some of the nation's most respected health care leaders, as well as a diverse group of experts and change agents from economics, politics, business, community organizing, and energy. Putting their heads together between 2008 and 2010, they realized everyone would need to rethink their approach to improving health and well-being—and an entirely new kind of initiative would be needed to help leaders across regions and sectors to see a new way forward. That initiative is ReThink Health. They based the initiative on the guiding principles that, to make lasting change to the health ecosystem, efforts must be:
Systemic Approach challenges from a system level and design a new system that fosters health and well-being.
Transformative Incremental change is not enough. Business-as-usual is not working, so we must upend the status quo and transform the system, all the way down to how people think about health and well-being.
Stewarded Leaders must be stewards—they must take responsibility for forming working relationships with others to transform health and well-being across their region.
Multisector Stewards must form relationships across sectors. Every part of a regional system contributes to health and well-being, so they must all be at the table, whether they are health care providers or payers, or they are focused on education, business, justice, and so on.
Regional Health and well-being are largely local, so system-wide national impact will build from local action. There is no one-size-fits-all solution.
Equitable The transformed system that produces health and well-being must be equitably designed and address systemic inequities in the current system, as those inequities are a major barrier to health and well-being for all.
ReThink Health's Pioneers
See some key accomplishments that led to each pioneer's role in founding ReThink Health. These tremendously talented people continued to make marks in their respective fields, but the list below only features highlights from before they founded the initiative.
Donald Berwick

Health care quality improvement

Former head of the Centers for Medicare & Medicaid Services and the Institute for Healthcare Improvement. One of the country's foremost advocates for advancing quality improvement and value-driven health care.

Elliott Fisher

Health policy and research

At the time, was director of The Dartmouth Institute for Health Policy & Clinical Practice. His research has shown how variations in health care spending have little to do with health status or price or outcomes, but rather on greater use of services.

Marshall Ganz

Community organizing

Harvard professor and community organizing luminary. Helped organize the United Farm Workers and supported development of President Obama's winning campaign strategy.

Laura Landy

Philanthropy and entrepreneurship

Rippel president and CEO. An entrepreneur and foundation leader whose work has focused on bridging sound market and business practices with social goals to create sustainable solutions to our nation's most challenging problems.

Amory Lovins

Energy research

A renowned scientist and founder of the Rocky Mountain Institute, whose critical thinking about alternative approaches to energy policy has driven world leaders and the public to think differently about climate change and sustainable energy.

James (Jay) Ogilvy

Business (strategic planning)

A cofounder of Global Business Network, who helped pioneer scenario planning, which has become an integral part of strategic thinking in business and government and has revolutionized both public and private planning.

Elinor Ostrom

Economics

A Nobel Laureate in Economic Sciences, whose research has been at the forefront of promoting policies for fostering democratic governance and sustainable stewardship of common resources shared among populations. Elinor passed away in 2012.

Peter Senge

Organizational design and systems thinking

A pioneer and influential leader in economic and organizational design, systems thinking, and leadership development, who founded the Society for Organizational Learning. His book The Fifth Discipline has been hailed as one of the most important management books ever by publications like Harvard Business Review and Financial Times.

John Sterman

Environment and system dynamics

An MIT professor and a leader in system dynamics, who has focused on addressing climate change and helping corporations see opportunities and consequences of their investments.

David Surrenda

Organizational psychology

A psychologist and founder of the Graduate School of Holistic Studies at John F. Kennedy University. David developed The Leadership Edge which helps leaders advance creative-change strategies and sustainable solutions for their organizations.