Thriving Together Theater
Communities occasionally face severe shocks that inflict widespread harm, intensify injustice, and test the ties that bind people together. Shocks (such as economic recessions, fires, floods, heat waves, mass violence, pandemics, etc.) typically unfold quickly, intensify pre-existing injustice, and lead to greater morbidity and mortality.
When faced with such a shock, how can community changemakers establish conditions for everyone to heal and enhance life satisfaction, without leaving anyone behind?
The Rippel Foundation's ReThink Health initiative created the interactive Thriving Together Theater in conjunction with the Thriving Together Springboard and input from over 100 contributors. The theater offers an immersive, simulated experience to help changemakers understand the strategic challenges they would inevitably face when trying to recover from an unjust shock and move toward an equitable, thriving future. It enables community stewards to play out the dynamics of recovery and renewal over a 10-year time horizon while they experiment with various ways to balance investment priorities among vital conditions for health and well-being—including belonging and civic muscle, fairness in system design, and the adequacy of urgent services.
The four drivers of well-being
Working together as a community stewardship team, theater participants determine how to expand the four drivers of well-being
Fairness in System Design
Vital conditions—to expand conditions that everyone needs to thrive, such as humane housing, a healthy environment, etc.
Equitable policies and practices—to ensure just inclusion across race, color, class, gender, and other differences
Urgent service capacity—to alleviate life crises among those who are struggling and suffering
Belonging and civic muscle—to ensure that everyone feels they belong and to build strength in every other area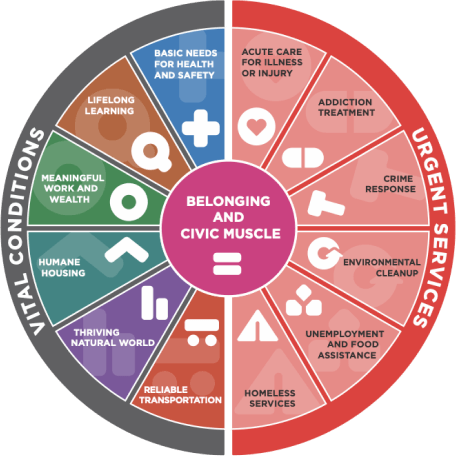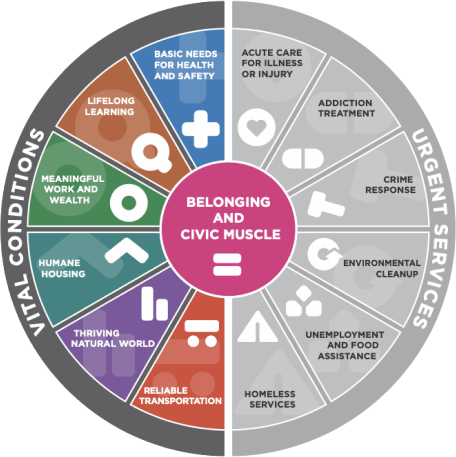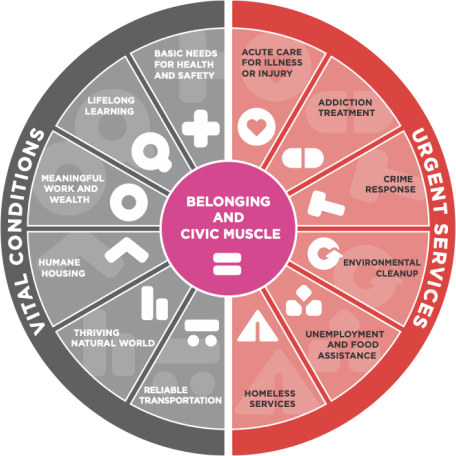 During the course of the theater, participants receive feedback from local scientists, journalists, and residents in their community on how their efforts are either helping or hurting the community. Participants are able to see the effects they are having on the percentage of residents who are thriving, struggling, and suffering as displayed in the image below, and can adjust accordingly. This helps them to get a better understanding of how the four drivers of well-being work together and how they affect community well-being overall.
Over the next 10 years, you and your fellow stewards must find a path, where…
More people are thriving
Fewer are suffering
All drivers of well-being are stronger, with greater

equity

, more secure

vital conditions

, adequate

urgent services

, and a stronger sense of

belonging and civic muscle
Every two years, you will review a scorecard with those criteria.
Then revisit your priorities for the next two years.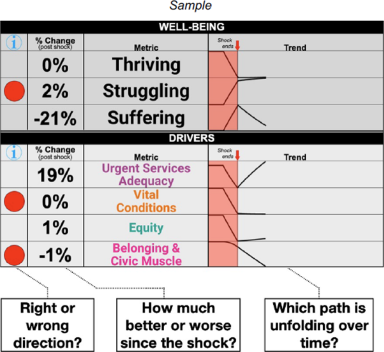 ReThink Health has facilitated the Thriving Together Theater experience with a range of groups across the country, including community-led multisector partnerships, government agencies, and graduate schools. Watch this recording of the Thriving Together Theater that ReThink Health facilitated with Healthy Communities Delaware in May 2022.
Interested in learning more about the theater or participating in a theater experience? Contact Molly Belsky at [email protected].
Visit these useful links to learn more about the Thriving Together Theater
Access the Thriving Together Theater platform
This paper published in System Dynamics Models for Public Health and Health Care Policy, co-authored by Bobby Milstein (Rippel/ReThink Health), Jack Homer, and Chris Sodequist, presents the structure of the theater and explores results and insights.
View the Thriving Together Theater Playbill, a guide to navigating and participating in the theater experience.