The Reports Explore What Can Happen When People, Organizations, and Networks Operate as Stewards of Well-Being
What does it take to become a steward? What shifts in practices—including mindsets and actions—are needed, and what change can result from shifting those practices?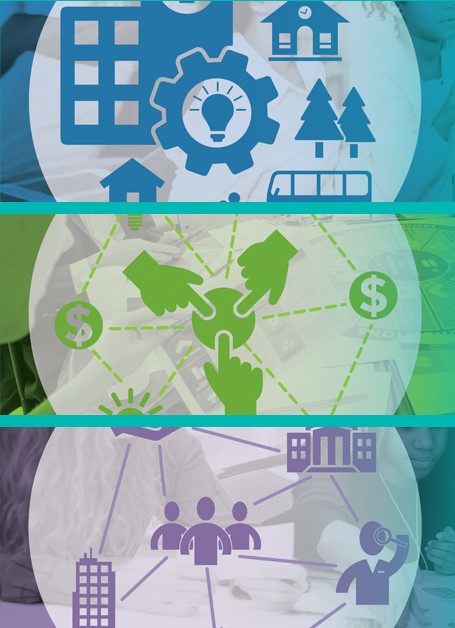 ReThink Health has joined with changemakers across the country who have a unifying aspiration to achieve equitable well-being. Underlying this goal is the belief that meaningful progress can be achieved only by transforming the systems that hold the country's problems in place. This progress is driven by stewards, defined as people, organizations, and net­works who work with others to create conditions that everyone needs to thrive, beginning with those who are struggling and suffering.
In 2019, with funding from the Robert Wood Johnson Foundation, The Rippel Foundation's ReThink Health initiative launched three distinct but related multi-year projects to examine the state of shared stewardship nationwide and to help hospital systems and regional networks explore how adopting stewardship practices could strengthen population health and well-being. Three new reports share insights from the projects. 
Hospital Systems in Transition (HST)
Portfolio Design for Healthier Regions (PDHR)
Amplifying Stewardship Together (AST)
Hospital Systems in Transition (HST) explored stewardship at an organizational scale—specifically, within health systems focused on addressing population health, in Philadelphia, Detroit, and Virginia's Roanoke Valley. The report will be of interest to anyone who wants to understand how hospital systems and leaders can rethink and transform their roles to advance equitable community well-being.
Portfolio Design for Healthier Regions (PDHR) explored how stewards within and across organizations in a community can shift investments to the vital conditions that produce sustainable health and well-being, including basic needs for health and safety, humane housing, meaningful work and wealth, a thriving natural world, and more. The report provides details about how the leaders of regional networks in Florida and Michigan joined with ReThink Health to align investment priorities around the pursuit of equitable system change and to create resident-led practices that would build on existing community strengths.
Amplifying Stewardship Together (AST) concentrated on understanding the state of stewardship nationally and identifying how to strengthen it as a norm that can bolster the growing movement to thrive together. The project revealed that while there are increasingly widespread signs of promising progress, significant gaps exist in vital conditions across communities today, and stewardship is not yet practiced at the scale and strength needed to bridge those gaps. The report identifies implications for strengthening the Thriving Together movement so that stewards everywhere can gain momentum.
The timing of the projects offered a unique opportunity to witness how stewards act in the context of multiple systemic crises, including the COVID-19 pandemic, a burgeoning movement to reckon with racial injustice, and an economic recession. The ReThink Health team worked closely with a network of diverse stewards who were navigating the need to change systems in the midst of real-time, unprecedented upheaval.
Each report begins with an executive summary that briefly explores the structure and results of each project. The pages that follow provide rich details about how the work was conducted and evaluated, what individuals and organizations took from the experience, and how the findings can be built upon.
ReThink Health would like to thank our partners, their respective communities, and the many participants who made this work possible, including our core participants: in Florida, Palm Health Foundation, BeWell PBC, Children's Services Council, Palm Beach County Youth Services, and Palm Beach County Community Services; in the 5 Healthy Towns region in Michigan (Chelsea, Dexter, Grass Lake, Manchester, and Stockbridge), 5 Healthy Towns Foundation, 5 Healthy Towns Wellness Coalition, St. Joseph Mercy Chelsea (Trinity Health), Department of Family Medicine at the University of Michigan health care system, Washtenaw County Community Mental Health; the 32 organizations that participated in the Stewardship Investor Lab; Carilion Clinic in Roanoke, Virginia; Jefferson Collaborative for Health Equity (J-CHE) in Philadelphia, Pennsylvania; and Trinity Health in Detroit, Michigan. We are also especially grateful for the thought partnership of Katherine Carmine, Anita Chandra, Glenda Eoyang, Emmy Ganos, Hilary Heishman, Christopher Nelson, Tyler Norris, Monte Roulier, and Somava Saha throughout the multi-year endeavor.