ReThink Health Toolbox Webinar:
An Introduction to the
Vital Conditions for
Health and Well-Being
What are the vital conditions for health and well-being? And how do they differ from the social determinants of health? Scroll down for a webinar recording exploring the vital conditions framework—a set of conditions that all people depend on to reach their full potential for health and well-being. You'll hear real-world examples of how stewards in a wide range of sectors and settings are using the vital conditions to help drive deep systems change.
In a revolutionary move last year, the vital conditions framework was adopted at the federal level as part of the interagency plan for Equitable Long-Term Recovery and Resilience. During the webinar, we also discussed how the framework came to be incorporated into the plan, and how it is helping the government reorient its approach to advancing equitable health and well-being in the U.S.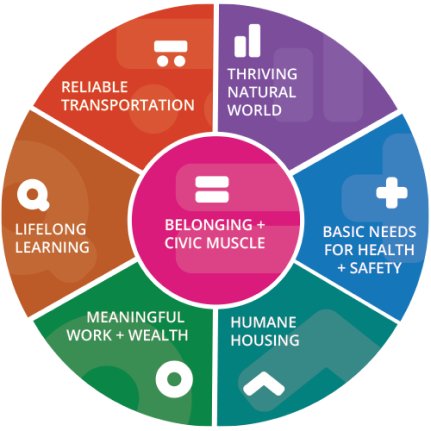 Speakers
This webinar is the first in our new series, the ReThink Health Toolbox, intended to help stewards drive transformative change by learning about Rippel's suite of tools and resources. Stay tuned for upcoming webinars in the series! Sign up for our mailing list to receive the latest updates.